Apple has again one good news and this is that Apple has gained advantage over Samsung in terms of web traffic volume. Samsung's most favorite product Samsung Galaxy S3 has lower number of web traffic as compared to the Apple's iPhone 5.
This battle between these two companies is quite old and both are considered as strong rival. In this war, Apple's devices seem to have more interest of general public.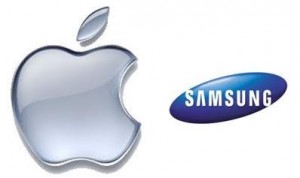 According to a report released by famous research firm "Chitika", Apple's new product iPhone 5 has accounted for about 56 percent of web traffic volume n less than one month time period. This has gained this number since this product has been launched.
The other rival of Apple, Galaxy S3 has 44 percent share out of total web traffic. This thing of great concern is that this Galaxy S3 is available in U.S fro almost four months while Apple's iPhone 5 was launched last month.
The research firm conducted this survey by millions of as mobile ad impressions that had 7 days time span and this survey was conducted between October 3 to October 9 of this year.
Another research firm 9 to 5mac has reported in its report that Chitika's recently published report seems to be accurate.
Chitika has also reported that Samsung is also planning to introduce new Galaxy S3 with Android 4.1 JellyBean pre-installed operating system and this product will be available in Japan in this winter. This product will be launched in both black and grey colors.
This report further says that Galaxy S3 with Android 4.1 JellyBean operating system update will be available in many countries before the end of this month.
Tags:
Galaxy S3
,
IPhone 5
,
Samsung