The world's most famous and luxury airline has announced that it is going to provide 1,000 HP ElitePad 900 tablets to its flight attendants. These tablets will run on Windows 8. These tablets have also been equipped with built-in airline-specific business app.
By the announcement of this news, the Emirates have become the first air line company which has provided the tablets to its flight attendants. This news has been announced by the senior official of the air line that that it will be handing out 1,000 HP ElitePad 900 tablets that have been equipped with Windows 8 to the flight attendants and other staff.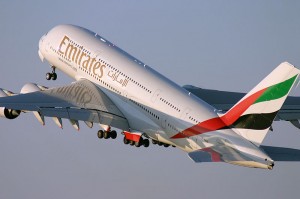 This announcement by the air line has been made during the Windows launch event in Dubai where the head office of the company exists. The carrier of this tablet said that it selected the HP ElitePad 900 because of different reasons including its light weight, improved battery life and its making that is specifically for the business users.
According to the officials of the company, this tablet will use a business app for Windows 8 that is called Knowledge Driven In-flight service (KIS). This application has been designed in way that shows the proper functioning with airplane, crew and customers information. Emirates have used this app since 2004 but this is the first time that Emirates will use it on in-flight tablets.
Emirates cabin crew senior vice president Kevin Griffiths said in a statement, "To support our crew, we have created an application on Windows 8 that delivers a unique, personalized experience with the necessary information for our cabin crew to better serve the needs of the customers".
But according to some analyst of the market, this tablet will not be available until January 2013. In order to respond this query, the spokesperson of Emirates said that the air line has the plans to have 100 tablets in its planes till the end of January. The air line will further provide 1,000 tablets by the end of 2013.
It is said about the Emirates that it is only the air line that has introduced different latest tech products to its passengers. In 2006, the company also introduced the permission of use of cell phones during the flights along with the features of e-mails and text messages. In last month, the company also announced that it is upgrading the services for the use of Wi-Fi that should make the calls easier.
Following to this news, American Airlines will also introduce the use of tablets on its flights in the coming future.
Tags:
Emirates
,
HP ElitePad 900
,
Windows 8