The Apple has submitted the annual statement to the SEC yesterday in which the company claimed that the total remuneration that was given to the CEO of the company stood at $ 4.17M during 2012. The held meeting of the shareholders and during the meeting, the company informed all the future projects that are currently in the pipeline.
In this meeting the company also announced the massive cut in the compensation package of the Time Cook and informed the shareholders that the CEO received just $4.17M during 2012 as compared to the $378M during 2011 and $59 million 2010.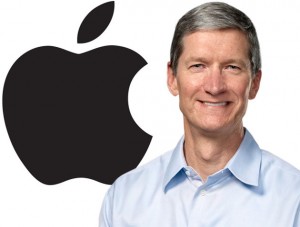 The company further informed the shareholders that the difference in the remuneration of both the years is due to down to stock option award. The CEO of the company was granted stock option award in both the previous years and he received $52 million in 2010 and $376 million during 2011 while during 2012, the CEO of the company did not receive anything from this option. The stock awarded in the previous years will vest in 2014, 2016 and 2021 respectively.
The compensation packages of the other senior management were also discussed during the meeting including the Peter Oppenheimer (*SVP & CFO), Robert Mansfield (SVP Technologies), Bruce Sewell (SVP, General Counsel) and Jeffery Williams (SVP Operations).  All these senior executives were awarded significant stock option award and each were paid the package above $ 66 million for 2012. It is said about the previous CEO of the company, Steve Jobs that he did not receive more than $1 per year in compensation.
Tim Cook, as the CEO of the company, received base salary of $ 1,357,718 for 2012. The other senior executives of the company witnessed the significant growth in their salaries, company informed the shareholders during the meeting.
Tags:
SEC
,
Steve Jobs
,
stock option award
,
Tim Cook