After the successful launch of iPad mini, Apple has also introduced a new and stylish slim sized iMac 2012. Apple has made plans to set the price of this slim and beautiful new iMac all-in-one desktop at $ 1,299.
This 21.5 inch wide IMac has other excellent features too. It has been blessed with 2.7 GHz quadcore Core i5 processor that has been provide by Intel.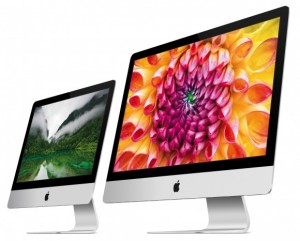 This slim and stylish iMac has 8 GB of RAM and most surprisingly the 1TB hard drive. In this bigger and advanced model of Apple iMac there is also Geforce GT 640M graphics card.
In addition to this, Apple also unveils 27 inch wide iMac and it has been set at the price tag of $ 1,799. As far as the specifications of this model are concerned, it has 2.9 GHz quadcore Core i5 processor that has also been provided by Intel. Moving further on the specification list, we find that this 8 GB of ram and it also has been blessed with 1TB hard drive. This will use NVIDIA Geforce GTX 660 GPU graphics card.
This new device is about 40% lighter than the old one. It also contains Apple's new Fusion drive. This drive has the ability to combine both Flash and regular old hard drive storage.
This stylish and slim iMac is just 5mm thick. This slight thinness is considered as the major achievement by the Apple.
The analysts are of the opinion that this new device will be a great addition in the current portfolio of the company. After the warm welcome to iPhone 5 and iPad mini, this new and stylish device will add much in the revenue of the company.
The management of the company is hopeful that like other devices of the company, this device will also get warm response from the general public. Most expectedly, this device will be made available in December 2012.
Tags:
Apple new product
,
iMac
,
iMac 2012