The prices of the stock of Apple dropped below the $600 during pre-marketing trading and opened at the rate of $594.49. This has shown decline of about 1.5% as compared to the last day closing price. The investors are showing their great concerns over two major executive's departure issue.
During the start of the business week, Apple first announced about the departure of Scott Forstall. He was considered the right hand of late Steve Jobs. He was also considered as the powerful head of iOS of the company.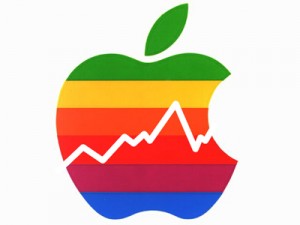 Soon after this, Apple also announced about the departure of newly hired retail senior vice president John Browett. He served the company for just nine months. This news came on the day when most of the markets were closed on the fear of hurricane Sandy.
Some leading analysts of the market are, however, taking positive turns about the company's decisions. They are of the opinion that in this way the company will be able to get the right person for the right job. There seemed some fear amongst the retail employees of the company as Browett was planning to cut the number of employees in order to boost the profit of the company.
However, investors show negative concerns over these news and they preferred to sell the stock rather than buying more. They have the valid opinion that though the departure of Browett does not have more importance but in the absence of Scott Forstall how company will perform. The officials of the company should pay more attention in getting the right person to fulfill this major gap.
The decline in the price of the stock was due to the different facts and concerns that were prevailing in the minds of the investors including that Apple has recently launched iPad mini and soon the company has completely sold out the first amount of stock. Moreover, the company is also getting the approval of iPhone 5 sale in China which will definitely increase the demand of the products of the company.
Previously, Apple's stock first fell on Friday below the $600 mark for the first time since July following the disappointing earning s and lower expectation for the profit of the upcoming quarter.
The stock closed at $590 which is almost 2% less than previous day's close. The stock of the company has so far declined by more than $100 after touching the peak price of $705 just before the launch of iPhone 5.
Tags:
John Browett
,
Scott Forstall
,
Stock of Apple