The users of Facebook will be pleased to know that Facebook has launched a new update through which users will be able to add smiley faces and other emoticons in their friend's comments.
This thing was not previously available at Facebook and the users of this leading social media group did not notice before. Facebook quietly introduced the ability to add emoticons to comments portion last week.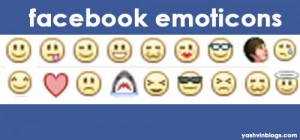 The social media giant is quite hopeful for this update as this will create more fun for the users. Now users will be able to properly and more effectively communicate their messages or comments to others.
The market analysts are however pointing out some lacing in this update. They have pointed out that the users of Facebook can not use these emoticons still in their status updates by themselves. They have only the option to add emoticons in comments portion.
Another important thing they have pointed out is that Facebook's users will also not be able to add emoticons through the mobile phone application, more importantly they will not be able to even add emoticons in their comments.
Facebook has informed its users that there is a wider variety of emoticons than anyone can expect. The officials of the Facebook further added that the list of emoticons even contain sharks and penguins.
This update will allow the users to add emoticons during chat and its messenger application.
The developers are hopeful about this update as this will lead towards more entertaining interface for the users.
Tags:
emoticons
,
smileys