Now the users of the Facebook will be able to send real gifts to their friends with the help of new app designed and developed by Facebook.
Facebook has updated its iOS and has added the feature of sending real world gifts to the friends directly from the iPhone of the users.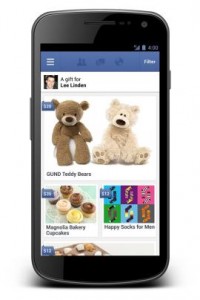 Facebook launched the real gifts service back in September. The product of its acquisition of Karma earlier this year, the feature allows the Facebook users to give real world gifts to their friends on the leading social media network without knowing the physical address of the friends.
With the help of this app, the users can select the gifts from a wide range of list of gifts with less than one minute time. The users of the leading social media site has strongly welcomed and appreciated this app as this has solved many of the problems of the users.
In addition to the introduction of this app, Facebook also made some other updates that will enable to upload multiple photos to Facebook in one go. Moreover, there is also an updated messenger that allows the users an easier access to the Facebook contacts and users can easily make the communication with these contacts on the social media network.
The analysts are of the opinion that these updates will help the users a lot in the manner that they will become more relaxed in using these services. The officials of the company are also hopeful about the successful completion of these updates.
Tags:
iPhone App
,
real world gifts