After completing series of experiments and tests to iOS users till the end of last week, now Facebook has finally launched the photo sync service for both the iOS and Android devices.
This photo sync service allows the users to upload the photos automatically that they take with their mobile phones. The photos that are taken through mobile phones will be directly and automatically uploaded to the Facebook. Thus, with the introduction of this feature, the users will be able to get rid of manual uploading of the photos.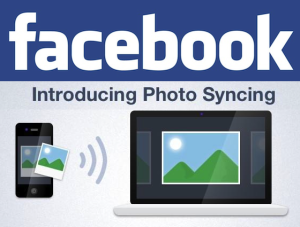 As far as the sharing of these photos is concerned, the users will have to make some decisions regarding the sharing of the photos. With this photo sync service or feature, all of the photos that have been taken from mobile devices are automatically uploaded to the Facebook but they will not be automatically posted to the Timeline of the users.
All photos that have been uploaded through photo sync will appear in a separate and private folder within the user's Facebook photos. From these folders the users have the option to choose the photos of their choice that they want to publish for their friends. The spokesperson of the company made the following statement on the introductory ceremony of this feature;
"Today we are excited to roll out photo sync, which makes it easier to share photos. With this feature, photos from your phone sync automatically to a private alum on the web. When you want to share these photos, just pick and post your favorites. We began testing photo sync in August and will continue to make it available to more people".
The users will need some settings to enable this feature. For this purpose, go to the photos section and find the sync button there. This button is found at the bottom of the photos section on the mobile app. This photos sync can also be set through desktop.
As this feature of photo sync starts, the users have the option of 2GB storage. The Facebook has done great regarding the space availability. The users have another option that if they do not want to share the uploaded the photos on the Timeline they can save them all in a 2GB cloud locker for free.
Tags:
iOS and Android devices
,
mobile devices
,
Photo sync service
,
Social media sites