With the increased number of users on Facebook and Twitter, both the positive and negative aspects have been seen on the picture. No doubt, the social media sites provide a good platform for sharing the different opinions, photos, videos and other events, but on the other hand it has also provided different opportunities for the scam artists to produced different scams in order to get the attention of the users on these social media sites including the Facebook and Twitter.
A latest scam has now been found on Facebook that is offering to change the user interface to another cool looking, colorful and more attractive platform. This scam message appears and shows that if you have bored with the existing interface of the Facebook, try the new cool one, colorful platform for further use.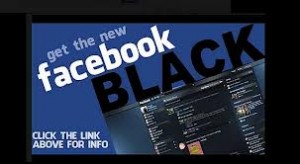 The users of the Facebook are now seeing an image showing the new "Facebook Black" in their news feed. The image asks the users to click a link that has been shared above. After clicking on that link, this will lead the users to an official-looking app permission screen.
But according to the official spokesperson of the company, there is no such thing as "Facebook Black". The official spokesperson of the Facebook has warned the users to be careful of this scam message and by clicking on the link will only open up to a possible security breach.
This scam message appears as "Are you sick of that boring old blue theme? Well now you have the power to change your Facebook color to anything your heart desires".
According to an analyst of an internet security firm, some versions of the dubious link attempt to fool users by displaying a limited time offer and prompting them to generate a code to access the new feature.
The management of the Facebook has declined this message and has warned the users to be careful in the future and totally ignore this message.
Tags:
Facebook Black
,
scam messages
,
Scammers