According to the declaration of the official financial results for the third quarter, the Google's revenue and other financial indicators showed negative trends.
The earnings of Google remained below the expectations of the analysts and shareholders and the value of the stock went down more than 8% at the closing of business hours on Friday, Wall Street reports.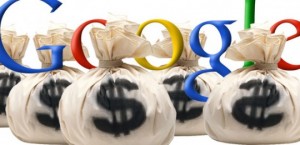 According to the result as announced by Google, the company earned total revenue amounting to $ 11.33 billion and there were expectations in the market that Google will earn $ 11.86 billion. Earnings per share of the company remained at $9.03 a share and there were expectations of $10.63 per share earnings.
The profit showed a declining trend and it dropped about 20%. The main reason of the decline in the profit is the cost that was related to the acquisition of Motorola and Android development. According to the details of this report the company's paid clicks were up by almost 33% year over year basis. The cost per clicks declined about 15% from the previous years.
The investors and analysts did not welcome these results as they were expecting more. But the officials of the company are hopeful that in coming future the results of the company will improve.
"The figures are not disappointing", but we were thinking and expecting from some different angle, a leading market analysts said after the announcement of these results.
The share price of the company will also improve in the future due to certain projects that are in the pipeline of the company.
The confidence of the investors on the shares of the company is quite strong and they are quite hopeful about the return of the price of the stock of the company to the original level.
Tags:
Financial Results
,
Financials
,
Third Quarter