There are some innovations in the world of the technology that surely amaze the peoples. They show that how positively human brain is working for providing new and latest devices applications for the users.
Similarly, a new iPhone's application namely "Snapchat" is available for the Android users. This app helps a lot the users who want to erase the photo after it has been sent to the other users.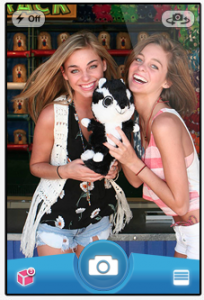 The Snapchat is an iPhone photo messaging app that helps the users to do the same. And more interestingly, this app is now available for the Android users.
The concept behind this application is so simple. Users of this application just take the photo from their phone, at the same time add text if they want to do so and then they assign time duration to it ranges from one and ten seconds. After sending it to other friends or users, the other recipient opens the photos, reads the message and then this photo is deleted from both the phones after the assigned time that is from one to ten seconds.
This app has been designed and developed by Evan Siegel. "It really empowers expressive and frequent content", Evan Siegel informs the press. With the help of this app, the users are able to do lot more about communicating with the others. The users can add about how they feel, what they are thinking and where they are right now during this moment.
This app was scheduled to announce the addition of Android users on Oct 30 at Dive Into Mobile conference in New York City, but the same conference was cancelled due to the hurricane sandy.
Since the launch of this app, this has seen significant growth in its usage; the main users of this app are the teenagers who are increasingly using this app. According to Siegel, this app receives about 20 million snaps per day. This app has accumulated more than a billion snaps since it launched last year. However, he did not disclose the exact number of users.
Snapchat is currently available now for free on both iOS and Android devices.
Tags:
Android
,
iPhone
,
Photo Messaging Application
,
Snapchat