A famous data aggregator firm, Starcount, has released its latest report about the ranking of most popular celebrities on facebook.  This firm is famous all over the world for this type of tasks and its results are considered as most authentic.
According to Starcount, Rihanna has moved and knocked Eminem off and has been marked as the most popular celebrity on facebook.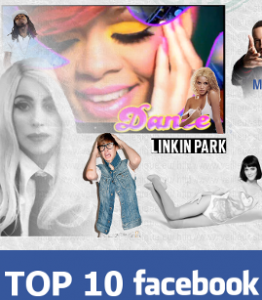 Rihanna's poularity on social media groups has rushed forward in recent years. During last July, she defeated Lady Gaga as the top female celebrity on facebook. She performed well and continued her journey for defeating others and now she has been ranked as most popular female celebrity on facebook.
About two years ago, Eminen had five millions more fans than Rihanna but she crossed this gap too quickly and achieved the most important milestone on the leading social media group.
Rihanna is also dominating on other social networks including YouTube where she has been ranked as second number after Justin Bieber and on Twitter where she has been ranked at number fourth behing Lady Gaga, ustin Bieber and Katy Perry.
Starcount, which conducted this survey, has also ranked Riahanna as the third most popular social media star in the world after Lady Gaga and Justin Bieber. The number of fans of top 10 most popular celebrities is as under.
Rihanna has 61.6 M fans, Eminen has 61.2 M fans and Shakira has 54.8 M fans. After Shakira, there is Lady Gaga with more than 53.2 M fans. At number five, there is Michael Jackson with more than 51.9 M fans.
Cristiano Ronaldo has 49.7 M fans, Katty Perry has 47.7 M fans, Justin Bieber has 46.7 M fans and LinKin Park has 45.3 M fans. At number 10, there is Akon with more than 41.8 M fans.
Tags:
Akon
,
Lagy Gaga
,
Rihanna
,
top 10 celebrities