Facebook fans and likes for top sports stars are forming new records. Different sports star have gained the likes of their fans on Facebook.
On the top ten sports stars list, Ronaldo, who is the famous soccer star, has gained more than 50 million likes of his fans on Facebook. If we see it on broader perspective then it is almost 5 percent of total population of the leading social media group.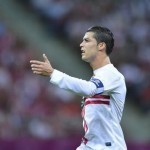 A report has been finalized by famous social popularity tracking site Starcount.com. According to its report, famous soccer star Ronaldo is the most beloved sports personality at Facebook.
This report says that Ronaldo's fan page is seeing a daily increase of more than 40,000 new fans. Ronaldo is first non music figure who has crossed the benchmark of 50 million likes on Facebok. He also has more than 13.8 million followers at Twitter too. This report adds further that if this speed continues, one day Ronaldo will cross all the pop superstars on this site and he will become most famous personality on Facebook.
When we talk about the other stars on the list, Starcount's survey shows that soccer stars dominate top ten most popular sports star lists with having four top positions.
Moving towards we find that after Ronaldo, there is another famous soccer star Lionel Messi with more than 38.474 M fans. After this there is David Beckham who has 21.336 M fans. Then there comes Ricardo Kaka who has 18.620 M fans.
Then there comes on the chart an American basketball player namely LeBron James who has more than 12.498 M fans. After this, there is Michael Jordan who is at number having 20.624 M fans.
If we move further we see that at number seven there is Andres Iniesta who has more than 10.942 M fans. Dwyane Wade stands at number eight with total 6.666 M fans. Sachn Tendulkar who is the famous cricket personality, stands at number nine with more than 7.813 M fans. At the last number, there comes John Cena who has more than 13.576 M fans.
Tags:
Facebook
,
Sports Stars
,
StarCount