A new app has been designed for iPhone users under the name of "Infomatic". This app provides the social media statistics of the users in a beautiful package and is now available for iPhone users at the price tag of $1.99.
This app provides the complete details of the users profile and it is considered as nice to get an analysis of online presence of the users. All the information is provided in a beautiful package in this application.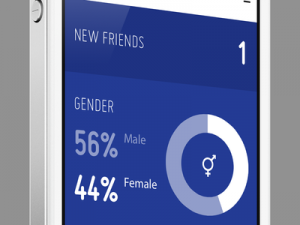 In order to launch this app, the first thing which the users need is to add their Facebook and Twitter accounts. Infomatic itself makes use of the already available iOS Twitter and Facebook accounts of the uses and it easily integrates with these accounts. The users can not add up the accounts manually and they will need to set their accounts first with the iOS. The main drawback of this app is that it accepts only one account of both the networks.
This app will take few seconds for properly loading up and after short time this app will load the complete data gathering of the users on the screen. As far as the account of Twitter is concerned, the users will be able to see how many Tweets have been made and at the same time, this app will also tell that how much number of followers and following. The statistics will include the following; Overview, Followers, Following, Media and activity.
As far as the statistics of Facebook are concerned, this app will provide the complete details about the number of posts, friends and photos. The statistical information will consist of number of posts you have made, number of friends, photos, videos and activity.
This app will have the feature of refreshing the data once in a day and at that time it will give complete and comprehensive overview of the activities of last seven days. The users of this app will also be able to grab the information like who is the new follower of this week, who unfollowed them, number of tagged photos, highest number of comments that users have received on their posts and many more interesting things. Some market researchers are claiming that this app has only one drawback and this is that the app refreshes once in a day.
Tags:
Infomatic
,
iOS app
,
Social Media site