Google is planning to launch credit card for small businesses in America and Britain. This has been announced by Google in a blog post that credit card facility will be available soon for small businesses in America and UK.
Google is planning to offer credit card specifically for Adwords purchase. The company will also offer the credit card facility for other small businesses in these countries in the near future.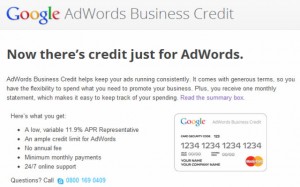 Initially the company introduced the AdWords credit card in a pilot program in which this card was offered for small businesses in US during last year. The main objective of this project was to facilitate small businesses to pay and check their AdWords project campaigns. According to the officials of the company, about 74% of the companies that participated in pilot program are now using the credit card to pay for their AdWords.
For this purpose, Google has signed an agreement with Barclays Group in UK and Comenity Capital Bank in America for the issuance of the credit cards and both are Master Cards. The company has further added that this credit card will only be used for the purchase of AdWords campaign and this card will not be used for any other purpose.
According to a research report, this giant search engine is not only the company which is getting financial services but there are different other companies who have entered into different financial agreements with other lenders. Amazon has also introduced a lending program to provide low interest loans to sellers in the US.
Google isn't the only tech company getting into the financial services industry. Amazon introduced a lending program to provide low interest loans to sellers in the U.S. at the end of last year.
Tags:
AdWords
,
Barclays
,
Google Credit Card