The fear and threat of hurricane sandy has disturbed different things and other companies. After the prediction of this hurricane sandy, the flights of the affected areas have been cancelled and schedules of other route flights have also been changed. There is also the news about the closure of subway in the New York and public holiday has been declared on Monday in those areas where this storm is expected to hit.
This situation has forced the Google to launch crisis map for this hurricane sandy.  As this hurricane Sandy moves near the U.S. mid-Atlantic coast, Google has done great thing by helping the affected peoples of the area with a dedicated crisis map.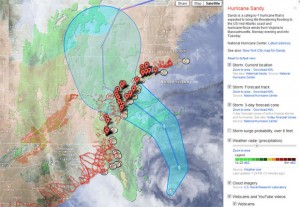 This dedicated map tracks and shows the Sandy's path. With the help of this map, the users will be able to choose between different available options of information.  With the help of this map, the users can track the current location of the storm. The users of this map will also be able t o forecast the track of the storm, shelter location and cloud imagery. The option of public alerts and several other options are also there.
Google has also launched a special Sandy crisis map for New York City. This map displays different information including some evacuation zones, evacuation centers and Red Cross emergency shelters locations.
It is said about sandy that it is a massive category 1 hurricane, expected to bring some life-threatening storm. This storm is expected to hit the different states of the U.S on Monday evening and early Tuesday morning.
Tags:
Crisis Map
,
Hurricane Sandy
,
U.S states