After the successful launch of Nexus 7, Google expands and introduces a new tablet under the title of Nexus 10. This 10 inch tablet has been installed and equipped with different interesting and latest features. This tablet has the high resolution screen and probably this is considered as the most interesting feature of this tablet.
Now here question arises that will this tablet be capable of competing the Apple iPad mini tablet? There is majority of opinions from different leading analysts of the market that there will be strong competition between these two giants.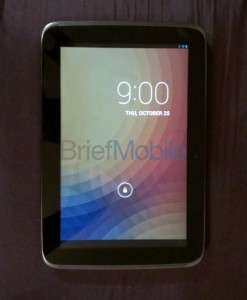 At the offer price of $399, the Nexus 10 is competing with the Apple iPad mini and Amazon's 8.9 inch Kindle Fire HD tablet. Here are some important reasons that's why there will be strong competition between Google and Apple.
The Samsung build device, the Google Nexus 10, is extremely light and lot of attention has been provided in deciding its weight. This device has the weight which is less than the third generation iPad and it also looks very thin.
This tablet has the micro USB cable that is used for charging. In addition to this, there is also micro HDMI port and 3.5 mm headphone jack and there is also a dock connector that will also be used for the charging.
The nexus 10 tablet supports a high resolution screen. This screen has the displaying capability of 2,560 x 1,600 pixels. The more interesting thing about this device is that it is using the latest and advanced version of Android 4.2 operating system. This tablet has also been blessed with dual core A15 processor which is extremely fast and it provides a nice combination of processor and the operating system.
The performance of the battery of this tablet is also wonderful and the users can experience the best of the battery timings.
This tablet has the two cameras, a rear facing 5 mega pixels and front facing camera with 1.9 mega pixels. The front facing camera has been designed for video chats and it is good for Skype or Viber.
Tags:
Amazon's Kindle Fire
,
iPad mini
,
Nexus 10 Tablet