There are lots of internet users that are not interested in sharing the details of internet activity with the advertisers.
This problem has been resolved by Google Chrome by introducing an extension namely PrivacyFix. This extension will let the users not to share the details of their internet usage activities with the advertisers.
This PrivacyFix extension will be available at the privacy settings and after making appropriate settings the advertisers cannot track what the users do on the web in order to make the revenue.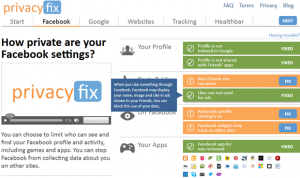 This PrivacyFix extension at Chrome will also ensure that friends that are connected with you through other social media groups cannot pass your information to other companies.
This extension or update also blocks the tracking of more than 1,000 sites with more emphasis on Facebook and Google. This extension will provide you a dashboard that will allow you to decide what you want to share and what you want to keep private. The procedure is so simple of making fix and it requires just one click. When the users click on the button "fix", they will have the settings of PrivacyFix extension of Chrome. The users can also protect your data on Facebook's offline tracking.
This PrivacyFix extension is an easy solution for resolving your worries regarding the security of your personal data that most of the companies try to get.
Tags:
Extension in Google Chrome
,
Internet users
,
PrivacyFix